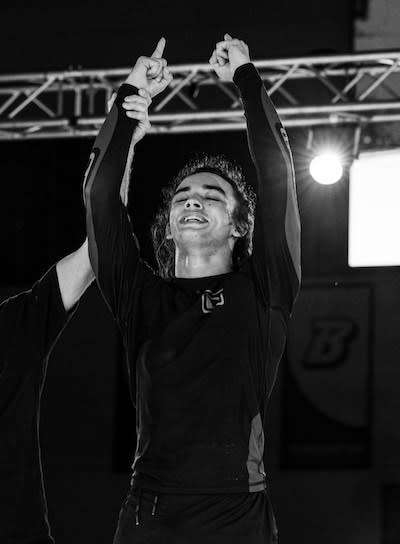 Asher Castro
Asher Castro is a dedicated practitioner of Brazilian Jiu-Jitsu, currently holding the rank of Blue Belt under the esteemed guidance of Professor Deivid Dias at GFTeam DC. With a passion for martial arts that spans over 5 years, Asher has honed his skills and knowledge in the art of Jiu-Jitsu, demonstrating exceptional technique, discipline, and determination on the mats.
Born and raised in in the DMV, Asher's journey in Jiu-Jitsu began in 2018, when he was introduced to the art at our academy. Since then, he has immersed himself in the intricacies of Jiu-Jitsu, constantly seeking to refine his techniques and expand his understanding of this ancient discipline.
Under the mentorship of Professor Deivid Dias, Asher has not only developed formidable technical prowess but also imbibed the values of respect, humility, and sportsmanship that are integral to the practice of Brazilian Jiu-Jitsu. His dedication to the art is evident in his consistent presence on the mats, where he strives for excellence and embraces the challenges that come with the territory.
In addition to his achievements in the dojo, Asher Castro is known for his active participation in local and regional Jiu-Jitsu competitions, where he has garnered recognition for his exceptional skills and competitive spirit. His commitment to the sport serves as an inspiration to both fellow practitioners and aspiring newcomers, exemplifying the transformative power of Brazilian Jiu-Jitsu in one's life.
With his Blue Belt representing a significant milestone in his Jiu-Jitsu journey, Asher Castro continues to train, learn, and evolve, eager to face new challenges and reach greater heights in the art he loves. His story is a testament to the profound influence of Brazilian Jiu-Jitsu in shaping not only his physical abilities but also his character and outlook on life.