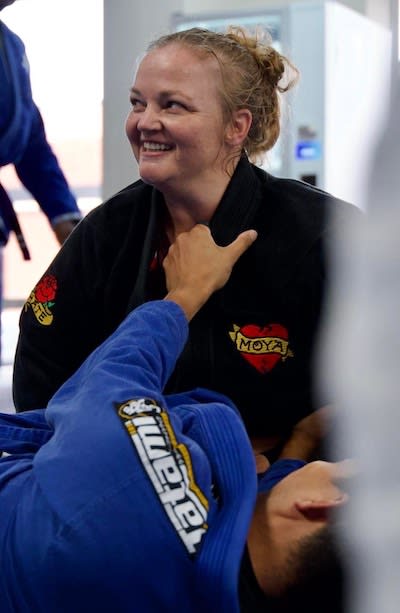 Charlene Dixon
Charlene Dixon is a formidable force in the world of Brazilian Jiu-Jitsu, boasting an impressive journey that began in 2013. Currently holding the esteemed rank of Brown Belt under the expert guidance of Professor Deivid Dias at GFT DC, Charlene's dedication and skill have elevated her to the upper echelons of the Jiu-Jitsu community.
With a competitive spirit that knows no bounds, Charlene has garnered an enviable list of achievements on the tournament circuit. As a Pans champion and a distinguished medalist at the prestigious Master Worlds, her prowess on the mats is a testament to her relentless pursuit of excellence. In 2022, she demonstrated her dominance by securing the coveted IBJJF rankings, claiming the #1 spot in not one, but two divisions, further solidifying her status as a force to be reckoned with.
Beyond her remarkable competitive achievements, Charlene Dixon is a seasoned instructor, possessing a wealth of knowledge accumulated over years of dedicated practice. Since 2016, she has been imparting her expertise to eager learners, teaching everything from fundamental techniques to specialized competition classes. Her commitment to empowering others extends to her work in self-defense training and the development of women's programs, creating a welcoming and inclusive environment for practitioners of all levels.
As a Brown Belt, Charlene Dixon stands as a testament to the relentless pursuit of mastery in Brazilian Jiu-Jitsu. Her journey exemplifies the transformative power of discipline, dedication, and a genuine love for the art. With her eyes set on even greater heights, Charlene continues to inspire and lead both on and off the mats.